Hiroshima Hawaii Next Generation Business Leader · Program Lecture
I gave a speech on "Hiroshima's Revival power"
at "Hawaii Hiroshima Next Generation Leader Program" sponsored
by the International Division of Hiroshima Prefecture.
Shortly afterwards, it was proposed that participants
from the Hawaiian side want to bring peace education events together at "The Royal Hawaiian"
– said to be Pink Palace in the Pacific Ocean, world famous hotel as Pink Tsukushi Hotel,
as a memorial project with friendship alliance with Hawaii Hiroshima sister city!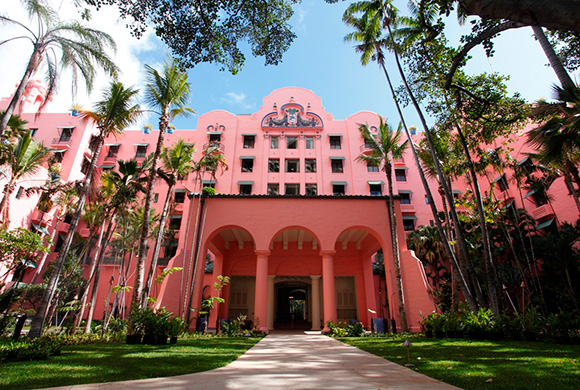 Sister city is the effort to enhance international understanding, peace
and friendship through educational,
cultural and humanitarian activities involving the exchange of ideas
and experiences directly among peoples of different countries
and diverse cultures. After World War II,
President Dwight D. Eisenhower sponsored the idea of "People to People"
and spread the sister city around the world.
It is supported by the philosophy and belief that "collision can be avoided
by deepening mutual understanding at the citizen level
even if friction becomes serious among the nations" by reflection on past war.
Honolulu and Hiroshima City became sister cities in 1959.
Hawaii State and Hiroshima Prefecture became friendship cities in 1997.
Together with friendship cities and sister cities,
I am thrilled to be able to work together for world peace!
I will announce the details again once we decide to hold in Hawaii.
If your circumstances match, I would be honored if you could participate in it.
We hope to utilize "The Hiroshima Miracle",
we aim to realize peace learning in various forms in many countries,
and expand the circle of world peace.
In Japan, we offer free lending of 1,000 "The Hiroshima Miracle",
and we are using it for peace studies at schools and companies.
We would be happy if we could spread the circle of world peace together.